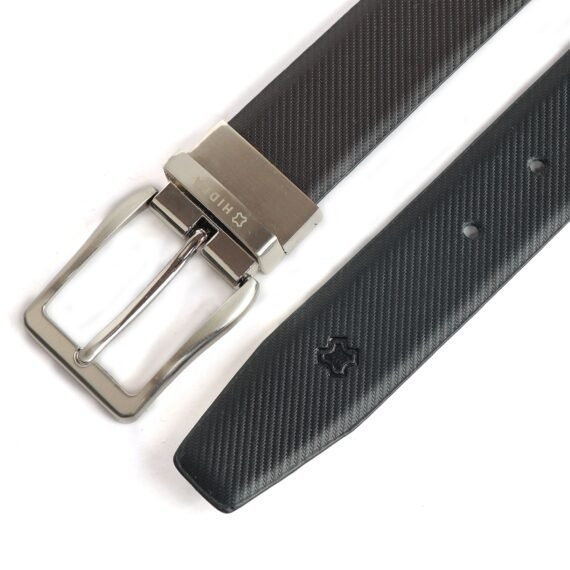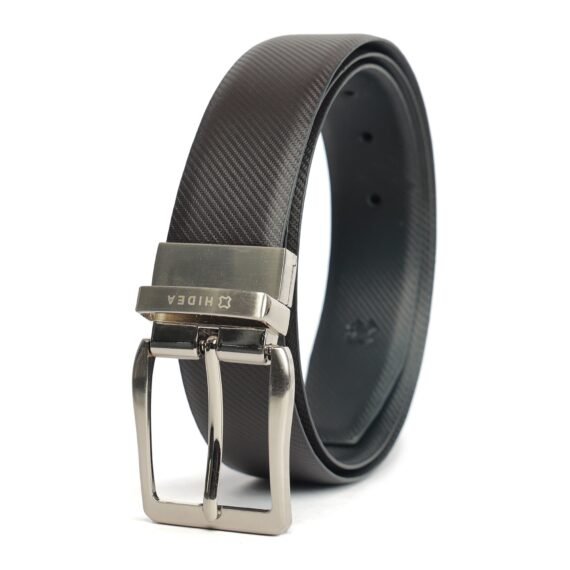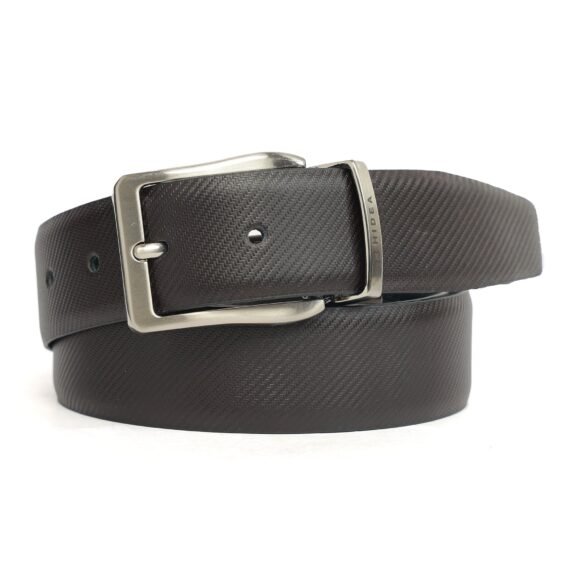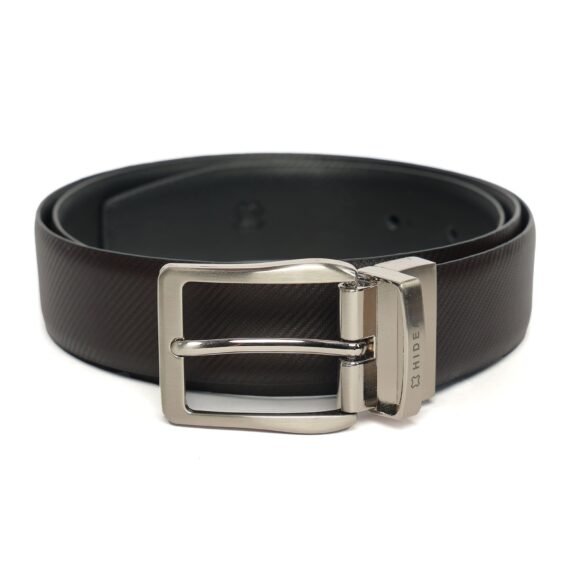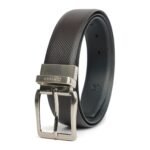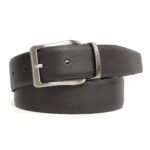 HIDEA Mens 35mm Formal Black / Tan Reversible Auto Lock Geniune Leather Belt ||HB 2217||
29
people are viewing this right now

Guaranteed safe & secure checkout
Description
About HIDEA Mens 35mm Formal Black / Tan Reversible Auto Lock Geniune Leather Belt ||HB 2217||
REVERSIBLE: Yes
STREACHABLE: No
OCCASION: Formal
Closure: Secured with a slider buckle closure
Warranty: 1 month Warranty provided by brand/manufacturer
Material & Design
Crafted from good Quality Smooth Genuine Leather. Specially Designed Inhouse for those Who Value Genuine Leather Product.
Features
Dual color Belt to match your dress or Shoes. A Product which defines your Style Statement
6 Punched Holes, 1 Loop with Small Logo Pin on Loop, Tip Embossed, Boat Tip
Manufactured & Packed by
PRITHVI IMPEX, No.23, Sy.No.44/3, Narasappa Layout, Doddabidarikallu, Nagasandra Post, Bengaluru – 560073. Karnataka, India. CUSTOMER CARE :- 9663722858 Email :- support@hideaindia.com
COUNTRY OF ORIGIN
Made In India
Shipping and Returns
Shipping cost is based on weight. Just add products to your cart and use the Shipping Calculator to see the shipping price.
We want you to be 100% satisfied with your purchase. Items can be returned or exchanged within 30 days of delivery.
There are no question found.
Quick Comparison
Settings
HIDEA Mens 35mm Formal Black / Tan Reversible Auto Lock Geniune Leather Belt ||HB 2217||

remove

HIDEA Mens 35mm Formal Black / Brown Reversible Auto Lock Geniune Leather Belt ||HB 2226||

remove

HIDEA Mens 35mm Formal Black / Brown Reversible Auto Lock Geniune Leather Belt ||HB 2203||

remove

HIDEA Mens 35mm Formal Black / Tan Reversible Auto Lock Geniune Leather Belt ||HB 2202||

remove

HIDEA Mens 35mm Formal Black Auto Lock Geniune Leather Belt ||HB 2207||

remove

HIDEA Mens 35mm Formal Black / Tan Reversible Auto Lock Geniune Leather Belt ||HB 2219||

remove

Name
HIDEA Mens 35mm Formal Black / Tan Reversible Auto Lock Geniune Leather Belt ||HB 2217||

remove

HIDEA Mens 35mm Formal Black / Brown Reversible Auto Lock Geniune Leather Belt ||HB 2226||

remove

HIDEA Mens 35mm Formal Black / Brown Reversible Auto Lock Geniune Leather Belt ||HB 2203||

remove

HIDEA Mens 35mm Formal Black / Tan Reversible Auto Lock Geniune Leather Belt ||HB 2202||

remove

HIDEA Mens 35mm Formal Black Auto Lock Geniune Leather Belt ||HB 2207||

remove

HIDEA Mens 35mm Formal Black / Tan Reversible Auto Lock Geniune Leather Belt ||HB 2219||

remove

Image
SKU
HIDEA Mens 35mm Formal Black / Tan Reversible Auto Lock Geniune Leather Belt ||HB 2217||
HIDEA Mens 35mm Formal Black / Brown Reversible Auto Lock Geniune Leather Belt ||HB 2226||
HIDEA Mens 35mm Formal Black / Tan Reversible Auto Lock Geniune Leather Belt ||HB 2203||
HIDEA Mens 35mm Formal Black / Tan Reversible Auto Lock Geniune Leather Belt ||HB 2202||
HIDEA Mens 35mm Formal Black Auto Lock Geniune Leather Belt ||HB 2207||
HIDEA Mens 35mm Formal Black / Tan Reversible Auto Lock Geniune Leather Belt ||HB 2219||
Rating
Price
Stock
Availability
Add to cart
Description
Content
About HIDEA Mens 35mm Formal Black / Tan Reversible Auto Lock Geniune Leather Belt ||HB 2217|| REVERSIBLE: Yes STREACHABLE: No OCCASION: Formal Closure: Secured with a slider buckle closure Warranty: 1 month Warranty provided by brand/manufacturer Material & Design Crafted from good Quality Smooth Genuine Leather. Specially Designed Inhouse for those Who Value Genuine Leather Product. Features Dual color Belt to match your dress or Shoes. A Product which defines your Style Statement 6 Punched Holes, 1 Loop with Small Logo Pin on Loop, Tip Embossed, Boat Tip Manufactured & Packed by PRITHVI IMPEX, No.23, Sy.No.44/3, Narasappa Layout, Doddabidarikallu, Nagasandra Post, Bengaluru - 560073. Karnataka, India. CUSTOMER CARE :- 9663722858 Email :- support@hideaindia.com COUNTRY OF ORIGIN Made In India
About HIDEA Mens 35mm Formal Black / Brown Reversible Auto Lock Geniune Leather Belt ||HB 2226|| REVERSIBLE: Yes STREACHABLE: No OCCASION: Formal Closure: Secured with a slider buckle closure Warranty: 1 month Warranty provided by brand/manufacturer Material & Design Crafted from good Quality Smooth Genuine Leather. Specially Designed Inhouse for those Who Value Genuine Leather Product. Features Dual color Belt to match your dress or Shoes. A Product which defines your Style Statement 6 Punched Holes, 1 Loop with Small Logo Pin on Loop, Tip Embossed, Boat Tip Manufactured & Packed by PRITHVI IMPEX, No.23, Sy.No.44/3, Narasappa Layout, Doddabidarikallu, Nagasandra Post, Bengaluru - 560073. Karnataka, India. CUSTOMER CARE :- 9663722858 Email :- support@hideaindia.com COUNTRY OF ORIGIN Made In India
About HIDEA Mens 35mm Formal Black / Brown Reversible Auto Lock Geniune Leather Belt ||HB 2203|| REVERSIBLE: Yes STREACHABLE: No OCCASION: Formal Closure: Secured with a slider buckle closure Warranty: 1 month Warranty provided by brand/manufacturer Material & Design Crafted from good Quality Smooth Genuine Leather. Specially Designed Inhouse for those Who Value Genuine Leather Product. Features Reversible Dual color Formal Belt to match your outfit. A Product which defines your Style Statement Belt Without HOLES - This Auto Lock Buckle simply auto-locks the belt, to release just gently push the lever and remove the strap, Logo Embossed on Tip, Square Tip Manufactured & Packed by PRITHVI IMPEX, No.23, Sy.No.44/3, Narasappa Layout, Doddabidarikallu, Nagasandra Post, Bengaluru - 560073. Karnataka, India. CUSTOMER CARE :- 9663722858 Email :- support@hideaindia.com COUNTRY OF ORIGIN Made In India
About HIDEA Mens 35mm Formal Black / Tan Reversible Auto Lock Geniune Leather Belt ||HB 2202|| REVERSIBLE: Yes STREACHABLE: No OCCASION: Formal Closure: Secured with a slider buckle closure Warranty: 1 month Warranty provided by brand/manufacturer Material & Design Crafted from good Quality Smooth Genuine Leather. Specially Designed Inhouse for those Who Value Genuine Leather Product. Features Reversible Dual color Formal Belt to match your outfit. A Product which defines your Style Statement Belt Without HOLES - This Auto Lock Buckle simply auto-locks the belt, to release just gently push the lever and remove the strap, Logo Embossed on Tip, Square Tip Manufactured & Packed by PRITHVI IMPEX, No.23, Sy.No.44/3, Narasappa Layout, Doddabidarikallu, Nagasandra Post, Bengaluru - 560073. Karnataka, India. CUSTOMER CARE :- 9663722858 Email :- support@hideaindia.com COUNTRY OF ORIGIN Made In India
About HIDEA Mens 35mm Formal Black Auto Lock Geniune Leather Belt ||HB 2207|| REVERSIBLE: No STREACHABLE: No OCCASION: Formal Closure: Secured with a slider buckle closure Warranty: 1 month Warranty provided by brand/manufacturer Material & Design Crafted from good Quality Smooth Genuine Leather. Specially Designed Inhouse for those Who Value Genuine Leather Product. Features Reversible Dual color Formal Belt to match your outfit. A Product which defines your Style Statement Belt Without HOLES - This Auto Lock Buckle simply auto-locks the belt, to release just gently push the lever and remove the strap, Logo Embossed on Tip, Square Tip Manufactured & Packed by PRITHVI IMPEX, No.23, Sy.No.44/3, Narasappa Layout, Doddabidarikallu, Nagasandra Post, Bengaluru - 560073. Karnataka, India. CUSTOMER CARE :- 9663722858 Email :- support@hideaindia.com COUNTRY OF ORIGIN Made In India
About HIDEA Mens 35mm Formal Black / Tan Reversible Auto Lock Geniune Leather Belt ||HB 2219|| REVERSIBLE: Yes STREACHABLE: No OCCASION: Formal Closure: Secured with a slider buckle closure Warranty: 1 month Warranty provided by brand/manufacturer Material & Design Crafted from good Quality Smooth Genuine Leather. Specially Designed Inhouse for those Who Value Genuine Leather Product. Features Dual color Belt to match your dress or Shoes. A Product which defines your Style Statement 6 Punched Holes, 1 Loop with Small Logo Pin on Loop, Tip Embossed, Boat Tip Manufactured & Packed by PRITHVI IMPEX, No.23, Sy.No.44/3, Narasappa Layout, Doddabidarikallu, Nagasandra Post, Bengaluru - 560073. Karnataka, India. CUSTOMER CARE :- 9663722858 Email :- support@hideaindia.com COUNTRY OF ORIGIN Made In India
Weight
0.2 kg
0.2 kg
0.2 kg
0.2 kg
0.2 kg
0.2 kg
Dimensions
18 × 6 × 18 cm
18 × 6 × 18 cm
18 × 6 × 18 cm
18 × 6 × 18 cm
18 × 6 × 18 cm
18 × 6 × 18 cm
Additional information

| | |
| --- | --- |
| Weight | 0.2 kg |
| Dimensions | 18 × 6 × 18 cm |
| Colour | BLACK / BROWN |
| size | 30, 32, 34, 36, 38, 40, 42, 44 |

| | |
| --- | --- |
| Weight | 0.2 kg |
| Dimensions | 18 × 6 × 18 cm |
| Colour | BLACK / BROWN |
| size | 30, 32, 34, 36, 38, 40, 42, 44 |

| | |
| --- | --- |
| Weight | 0.2 kg |
| Dimensions | 18 × 6 × 18 cm |
| Colour | BLACK / BROWN |
| size | 30, 32, 34, 36, 38, 40, 42, 44 |

| | |
| --- | --- |
| Weight | 0.2 kg |
| Dimensions | 18 × 6 × 18 cm |
| Colour | BLACK / TAN |
| size | 30, 32, 34, 36, 38, 40, 42, 44 |

| | |
| --- | --- |
| Weight | 0.2 kg |
| Dimensions | 18 × 6 × 18 cm |
| Colour | Black |
| size | 30, 32, 34, 36, 38, 40, 42, 44 |

| | |
| --- | --- |
| Weight | 0.2 kg |
| Dimensions | 18 × 6 × 18 cm |
| Colour | BLACK / TAN |
| size | 30, 32, 34, 36, 38, 40, 42, 44 |

Sold
0
0
0
0
0
0
Shipping